Being cherished across the world, we believe in returning our customer's loyalty by focusing our efforts on giving back to community.
The wellbeing of the consumers and the environment we live in is of highest priority to Mcdonald's.
CSR
Being cherished across the world, we believe in returning our customer's loyalty by focusing our efforts on giving back to the community.
Enlightening young minds – Education Mukhtangan
Muktangan, an initiative of Paragon Charitable Trust, pioneering in educational programme working in close partnership with various NGOs across the country. McDonald's partnered with Muktangan to support and promote education for the girl child. We worked on child centered methodology to educate kids through the seven schools operated by them.

McDonald's also partnered with Nareshwadi school aiming to improve the standard of living of the tribal community and students of Nareshwadi Project. The Company further supported the project economically by providing them with a better workplace. This in turn helped them to consume right quantity and quality of food, thus preventing malnutrition.
Go Green Campaign
McDonald's undertook a proactive step in creating awareness about Global Warming by educating children & urging them to GO GREEN.
Room to Read India
Hardcastle Restaurants partnered with Room to Read India an NGO running Literacy Program in primary schools to help young children obtain reading skills and develop the habit of reading by donating 1,11,000 children's books for distribution to municipal schools for the promotion of education of children, especially from non-privileged backgrounds in this program.
Support education and dignity of Labour
To educate and encourage dignity of labour in the Retail industry in India, McDonald's India in association with RAI hosted the 'Industry- Academy Partnership' Symposium.
McDonald's Traffic Safety Week ( Association with Mumbai Police)
McDonald's ran a 15 day campaign in benefit of the public, giving public traffic safety tips, encouraging them to observe traffic rules.
The Girl-Child and World Children's Day (UNICEF)
In western India, McDonald's tied up with The Nalanda Foundation to support Education of the Girl-Child for three years.
Supporting Pulse Polio
McDonald's has over the years worked to support eradication of Polio. With this end objective, the company has actively supported and participate in the Pulse Polio Awareness rally since 1997.
McDonald's Voting Initiative
In a bid to encourage its customers to vote, McDonald's India launched a consumer focussed initiative to reward every citizen who cast their vote in the civic elections.
SCALING FOR GOOD SINCE 1996
McDonald's India (West and South) is committed to conducting business in a way that is good for the people, good for the community and good for the planet.
RONALD MCDONALD HOUSE CHARITIES INDIA (RMHC INDIA)
Ronald McDonald House Charities Foundation India (RMHCFI) seeks to promote and establish care centres, care rooms and care houses for the benefit of all families whose children have been going through a medical treatment for their illnesses, both within and outside hospitals and medical centres, free of cost.
In 2016, RMHCFI has partnered with Bai Jerbai Wadia Hospital for children, Mumbai to launch its first Ronald McDonald Family Room in India. The Family Room is an area located in an entire ward of Outpatient Department of the Paediatric Haematology-Oncology department of Bai Jerbai Wadia Hospital for children.
Ronald McDonald Family Room (RMFR) provides children undergoing cancer treatment and their families a place to rest and refresh. It intends to provide improved medical environment, emotional support to parents, clean and hygienic play activities for kids and an opportunity of relaxation to all those families whose child is undergoing medical treatments at the hospital just a few steps away from you.
In the past three years, RMHC Family Room has reached out to more than 35,000 people in need, serving as a comfortable place for them and their children to relax and unwind. For many children, it's a space where they can forget their worries and anxieties for a bit.
To know more about RMHC India, please visit www.rmhcindia.org
Restaurant Level Corporate Social Responsibility (CSR) Initiatives
Small initiatives can make a lot of difference when you run more than 300 restaurants. Even our employees love giving back to the community and ensure they do their bit to bring a smile on people's faces.
We host several community outreach programs that focus on the adoption of social developments programs ranging from education of youth on environmental issues, cleanliness to partnering with the Police Departments to conduct traffic safety awareness programs.
At the local levels, our restaurant crew also undertakes slew of community outreach programs which include orphanage visits, book distribution and flood relief work among many others.
Road to Sustainability Working Together for Our Future
As a global brand, McDonald's India has a responsibility to be a force for good. The actions we take as a business present tremendous opportunities to have a deep and lasting impact, on us as individuals, on the communities we proudly serve and on the world in which we live and will pass on to future generations. The wellbeing of the consumers and the environment we live in is of highest priority to McDonald's.
Green Yatra
Opportunity : Keeping the environment around our restaurants clean has been one of the key focuses for McDonald's India. Paper and plastic waste generated at McDonald's India restaurants is estimated at approximately 1,05,285 kilograms on average per month across 60 restaurants in Mumbai and Pune.
Solution: McDonald's India partnered with a local non-governmental organization in early 2012 to run a waste management audit of restaurants in Mumbai and its suburbs, and to initiate a pilot to collect the paper and plastic waste from McDonald's restaurants in Mumbai. After a successful pilot, McDonald's India now recycles paper waste for reuse.
Results: McDonald's India, through its initiative of recycling paper waste for reuse, is taking a step toward obtaining green restaurant certification. By developing a systematic waste management process, McDonald's India is moving toward zero greenhouse gas emissions. After a successful pilot in Mumbai, McDonald's India has introduced the systematic waste management process in Pune (Maharashtra).
Since 2012, HRPL has saved approx. 2,677,000 kgs or 2,677 Metric Tons of Carbon or Greenhouse Gases emission (GHG) (Carbon dioxide (CO2) and Methane (CH4)) with virtual real estate value of ₹6,127 Crores or $ 1 billion. We intend to continue this for many coming years and encourage ecological sustainability.
Waterless Urinals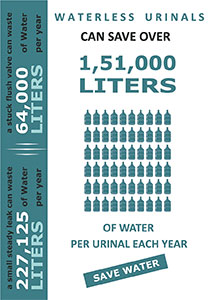 McDonald's has implemented an interesting solution aimed at improving sanitation without placing a heavy burden on the water resources by refurbishing traditional urinals with waterless cleansing technology. The waterless urinal is capable of saving over 1,51,000 liters of water per urinal every year. This initiative extends to 75 McDonald's restaurants in West India and our endeavor is to roll out the same across all our new and existing restaurants in the West & South of India by end of this year.
At McDonald's, sustainability has been a key pillar of strategy to cut carbon footprint as well as to boost profitability. We have mindfully woven sustainability into our operations across the business. Right from setting up a 'Farm to Fork' supply chain to launching the 'Good Food Journey' we have been at the cutting edge of sustainability.
. Owing to our relentless efforts, we have completely eliminated all single-use, customer-facing plastic from our restaurants. In the process, we have saved over 500 tonnes of plastic in a year and reduced our landfill significantly.
. More recently, we have also started converting the Used Cooking Oil (UCO) from our restaurants to 100% bio-diesel, thus saving cost and helping environment at the same time.
. The paper used for the packaging is FSC® (Forest Stewardship Council®) certified. FSC certification is considered the "gold standard" designation for wood harvested from forests that are responsibly managed, socially beneficial, environmentally conscious, and economically viable.
. That's not all! We have also deployed an internet of things enabled solution – Energy Management System, to monitor and save our energy consumption including Electricity, Diesel, Gas and Temperature. In FY 18-19 alone, EMS has helped us cut our carbon footprint by over 2300 tonnes.